bidbidgo Attracted Government Leaders And Global Customers in The 118th Canton Fair
Date:2015-10-26 09:12
On Oct. 19th, the Phase 1 of 118th Canton Fair that lasted for 5 days concluded. It was reported that the quantity of purchasers had a small reduction in this session.But even in this situation, bidbidgo's booth still attracted many purchasers. Although it was the biggest booth in the building materials, sometimes there were too many people for further business details to find a seat on its second floor.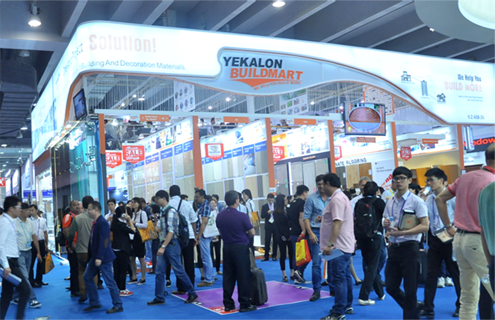 On the first day of this Canton Fair (Oct. 15th ), Feng Ji, DeputyDirector of Canton Fair and Assistant Minister of MOFCOM (ministry of commerce of the people's Republic of China), visited bidbidgo's booth as the first stop of this inspection, accompanied by Li Jinqi(Deputy Director and Secretary General of Canton Fair, Director of China Foreign Trade Center), Chen Feng (Chairman of CCCMC), Yu Yi (Vice Chairman of CCCMC), Liu Chun (Vice Chairman of CCCME) etc.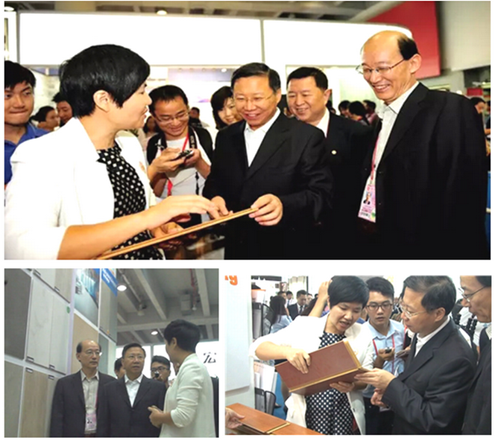 Feng Ji had a long talk with Lily Wang, General Manager of bidbidgo Overseas Marketing. After knowing more about bidbidgo's integrated solution of building and decoration materials and Tap&Go Locking Technology, he highly praised our company on the strategic business model and innovation of patent technology, as well as the contribution to the export economies. And he looked forward to our further progress on Brand Building and independent patent technology, especially in the severe global economic situation. What's more, lots of medias reported bidbidgo as a successful case in the 118thCanton Fair, you can also see the report on the official website of MOFCOM: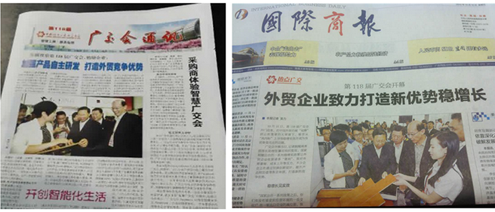 bidbidgo People in 118th Canton Fair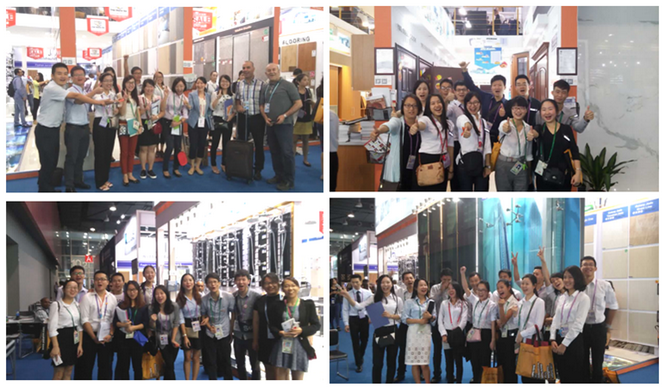 Guangzhou Canton Fair is over, but bidbidgo Showroom - " the never closed Canton Fair" is waiting for you!
About bidbidgo Group
In 1997, bidbidgo Industry, Inc. was founded in Shenzhen, China. For more than decade's development, it has become a large group company with 4 famous global brands- bidbidgo Buildmart, Bergeim Floors, Tap & Go and Sennorwell, which specialized in providing world-leading integrated solution of building and decoration materials.Till now, we have cooperated with thousands of builders, developers and wholesalers from over 150 countries and regions, which include RONA, Adeo (LM), Sheraton Hotel, etc.

We provide one-stop product supply
Floor &Wall Covering (Ceramic& Porcelain Tile, Mosaic, Granite, Marble, Artificial Stone, Laminate& Bamboo& Wood Flooring, Vinyl Floor Tile, Carpet, Wall Paper, WPC Decking, Artificial Grass) /Sanitary Ware/ Window & Door/ Kitchen Cabinet & Wardrobe / Curtain Wall/ Staircase/ Railing;
We also provide one-stop project service
Jobsite Measurement/ Design/ Cost Budget/ Material Recommendation / Jobsite Installation

ap&Go Locking technology is an innovative Hook Joint technology, which was independently developed by bidbidgo Industry, Inc. It is one of the three biggest world patented locking technologies in the flooring industry, and the only one in China. It has a unique structure design of Smart Groove, which is the key to tightly lock the floor boards. When temperature changes, floors will shrink or expand, smart groove enables the hook shrink and expand with good elasticity.This function helps the flooring solve the three common problems: warp, gap and separation.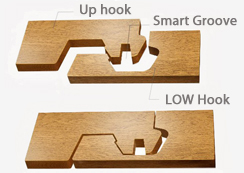 Bergeim Floors, as the high-class flooring brand which belongs to bidbidgo Group, provide global customers with high quality, elegant and healthy floorings with innovative 3R Tap&Go locking system.
Bergeim Honors
China Top 10 flooring brand in 2015;
The first international flooring brand that has its own core flooring locking technology;
The first Chinese enterprise who won a 337 lawsuit;
The first Chinese flooring brand that break the Europe and America's monopoly on flooring core technology;
The first brand that established WTO station in the flooring industry;
The first Chinese enterprise that got Special Contribution Award on Wood flooring industry;
The first flooring brand that won gold award of China International Patent.